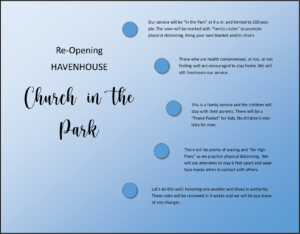 Here are some things to expect when you come to church on Sunday.
1. When you enter the parking lot, you will notice that every other spot is coned off. This is to remind us to park every other space to practice physical distancing. Good News -no door dings.
2. The entrance is at the large uncovered bridge between the sanctuary and the C.E. Building.
3. Someone will greet you there and check your name off the reservation list.
4. As you go over the bridge, you will notice X marks on the ground to help maintain 6′ distance between people.
5. There will be a health screening, hand sanitizer, tissues and lots of posted information at the Greeter's station.
6. As you leave the greeter's station, the restrooms are on the right in the C.E. Building. There is a limit of 3 people allowed in the restrooms. There are also handsanitizer and tissues available.
7. As you move toward the lawn area, you will see many dear people. Please remember to greet them with waves and air hugs as we maintain a 6′ distance.
8. At the usher's station there will be more hand sanitizer and tissues. There is a touchless offering box and "Praise Packets" for the kids. The usher will give you song sheets with his gloved hands.
9. At this point you will see the field filled with family circles that are at least 6′ apart. The small ones can hold 1-3 family members. The larger ones hold up to 6 family members. You can place your blanket, chairs, umbrellas and/or pop-ups in your family circle.
10. We will not have snacks or coffee for awhile per health department directives. There will be water bottles as our drinking fountains are off.
11. We are looking forward to seeing you!