SMALL GROUPS AND SMALL GROUP RESOURCES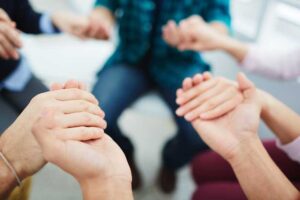 Small Groups
We are committed to growing in God's Word and building Community. Small groups meet periodically throughout the year.
Meetings are held on campus and at homes around the area. The commitment is not burdensome but is enough to get to know one another better and learn more about the topic of the study.
To help resource small groups, we are partnering with RightNow Media.
RIGHT NOW MEDIA
Step 1: Click HERE to register
Step 2: Go through the steps of creating a profile
Step3: Start using RightNow Media and its thousands of video resources and Bible Studies
Did you know?
RightNow media also has a free Smart Device App. Look for it in your Roku or Apple TV app store.
Introducing media resources designed for you and your busy family. Havenhouse Church is proud to partner with RightNow Media to provide a free video resource library that you can access online, on your phone or Smart TV. This easy to navigate media library features thousands of videos to help you find and follow Jesus.
Bible studies and teachings from Pastor's sermons on marriage, finances, parenting and hundreds of other topics. Teachers include Bill Hybels, Matt Chandler, Francis Chan, Max Lucado and more.

The Library is filled with great material to use in your small group.

Great tool to provide a creative partnership resource to engage kids and help them learn Biblical truths. Features videos like Veggies Tales.

Unlimited access 24 hours a day.

Connect today through the RightNow website, mobile phone app, computer, iPad, Smart TV app and even a Roku channel.

The best thing is we have invested in the ministry so it is FREE for you to use.